For Your Consideration
Categories
Best Jazz Instrumental Album
Lakecia Benjamin
Phoenix
Produced by Terri Lyne Carrington
Best Jazz Performance
Lakecia Benjamin
Basqiuat
Best Instrumental Composition
Lakecia Benjamin
Amerikkan Skin
Album Info
Artist: Lakecia Benjamin
Album Name: Phoenix
Producer: Terri Lyne Carrington
Phoenix is the highly anticipated, expansive new album in the music evolution of alto saxophonist and composer Lakecia Benjamin, released on January 27th, 2023 via Whirlwind Recordings.
The album was produced by the multi- Grammy-award winning Terri Lyne Carrington and features a star-studded line up of specially curated guests including Dianne Reeves, Georgia Anne Muldrow, Patrice Rushen, Sonia Sanchez, Angela Davis, and Wayne Shorter.
"Phoenix" is a double metaphor. Lakecia Benjamin refers to the New York City she grew up in and watched slowly die during the pandemic and then come back to life. But it is also a personal reference to the death which she miraculously escaped from in the Fall of 2021 following a serious car accident. This new opus is also an opportunity to highlight her own compositions as well as the creativity, talent, and commitment of the female artists she surrounds herself with. "Phoenix" marks yet another stratospheric rise for an artist who resolutely knows what she wants to say and how to say it, all the while honoring her mentors and the traditions that have come before her.
Lakecia Benjamin 'Phoenix'
Tracklist For CD and Digital
Amerikkan Skin (Featuring Angela Davis)
New Mornings
Phoenix (Featuring Georgia Anne Muldrow)
Mercy (Featuring Dianne Reeves)
Jubilation (Featuring Patrice Rushen )
Peace Is A Haiku song (Featuring Sonia Sanchez)
Blast (Featuring Sonia Sanchez)
Moods
Rebirth
Trane
Supernova (Featuring Wayne Shorter)
Basquiat
Amerikkan Skin (Featuring Angela Davis) (Radio Edit)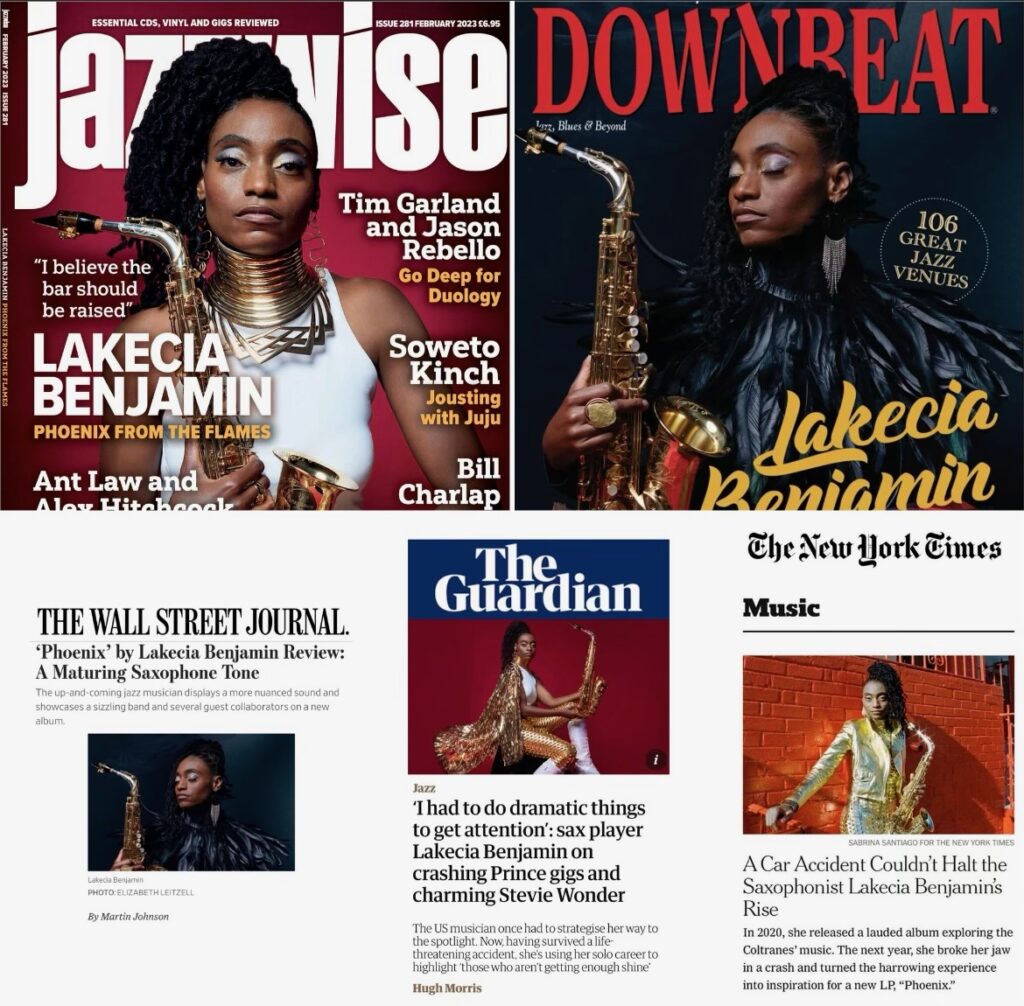 Producers
Terri Lyne Carrington
Lakecia Benjamin
Special guests
Georgia Anne Muldrow: Vocals, Synths (TRACK 3)
Patrice Rushen: Piano (TRACK 5)
Dianne Reeves: Vocals (TRACK 4)
Sonia Sanchez: Poetry (TRACKS 6 ,7)
Angela Davis: Spoken word (TRACKS 1,13)
Wayne Shorter: Spoken word (TRACK 11)